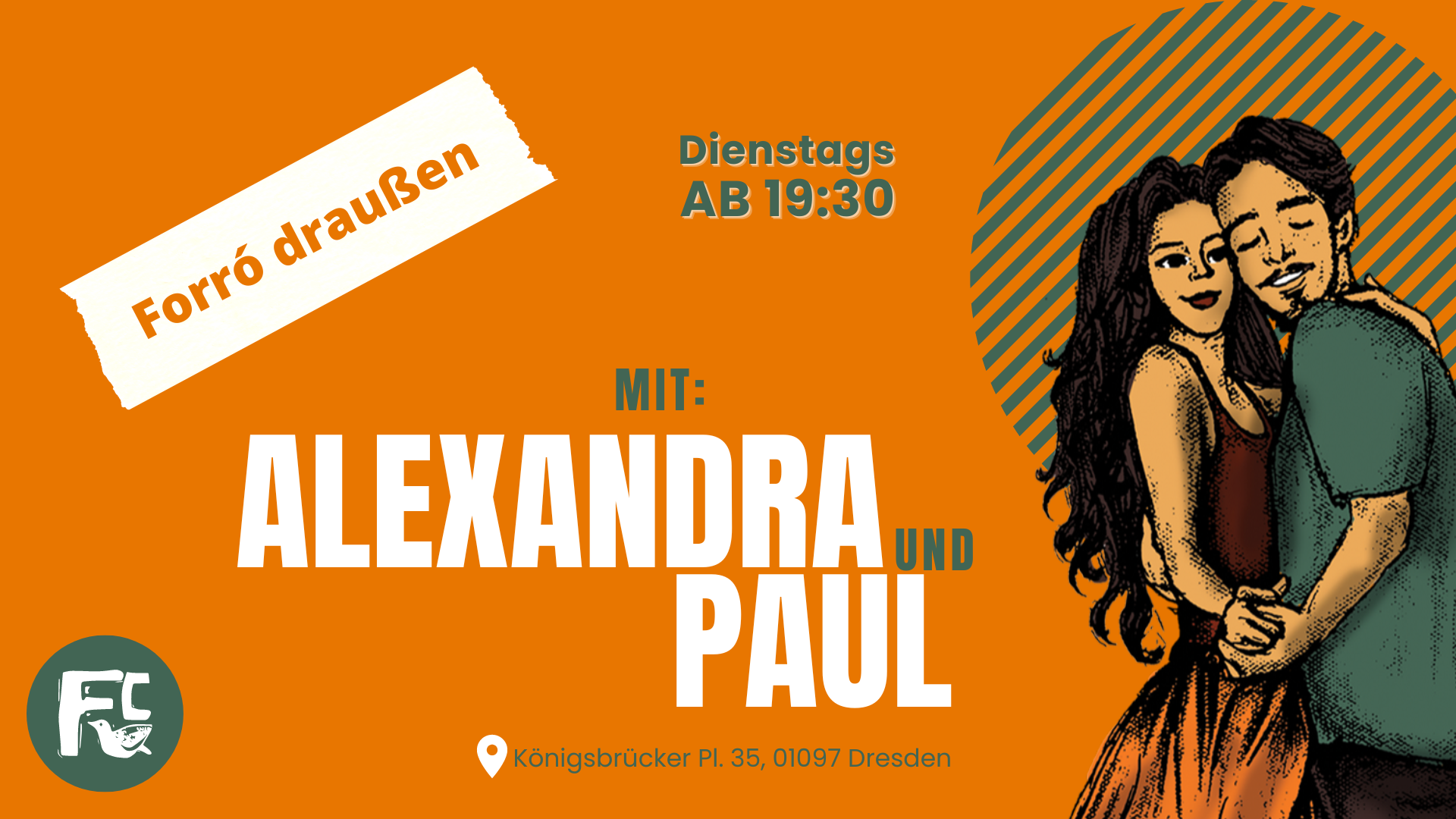 Forró Outside
Looking for a fun way to enjoy the beautiful summer weather? Come join us for our outdoor Forró dance gatherings every Tuesday, organized by Paul and Alex!
We'll be starting the evening with an hour-long class taught by Alex, where you'll learn the basic steps and techniques of Forró dancing. Then, we'll move to the lively beats of Forró music and enjoy the fresh air. Don't worry if you're new to Forró - all levels are welcome to join in the fun! So grab your dancing shoes and come on down for a great time with friends.
Venue
Bühne am Spielplatz
Königsbrücker Pl. 35
01097 Dresden
Date and Time
May 30, 2023, 7:30 p.m.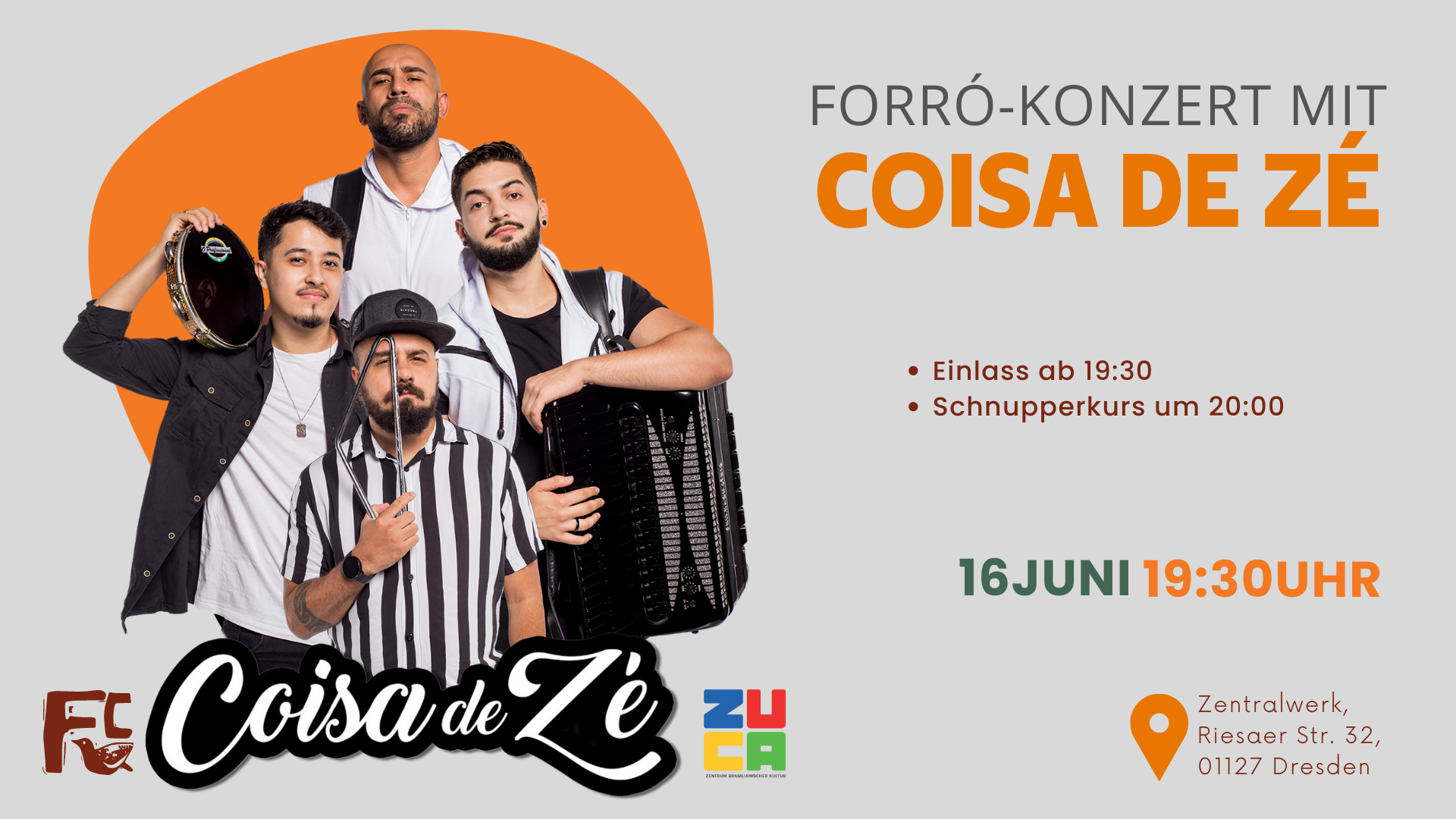 Forró Concert with Coisa de Zé
We're thrilled to announce that we're organizing a concert on June 16th featuring the amazing Coisa de Zé! Get ready for a night of unforgettable music and entertainment that you won't want to miss. With their unique blend of traditional forró rhythms and modern influences, Coisa de Zé is sure to keep you dancing and singing along all night long. Join us for an incredible evening and experience the magic of Coisa de Zé live in concert.
For those who are new to forró or want to brush up on their skills, we'll be offering a short introduction lesson at 20:00. So come ready to learn and dance the night away with Coisa de Zé!
We can't wait to see you on June 16th.
Venue
Zentralwerk,
keiner Tanzsaal,
Riesaer Str. 32,
01127 Dresden
Date and Time
June 16, 2023, 7:30 p.m.
Price
Presale Price: 15.00 €
Price at Venue: 20.00 €
Purchase a ticket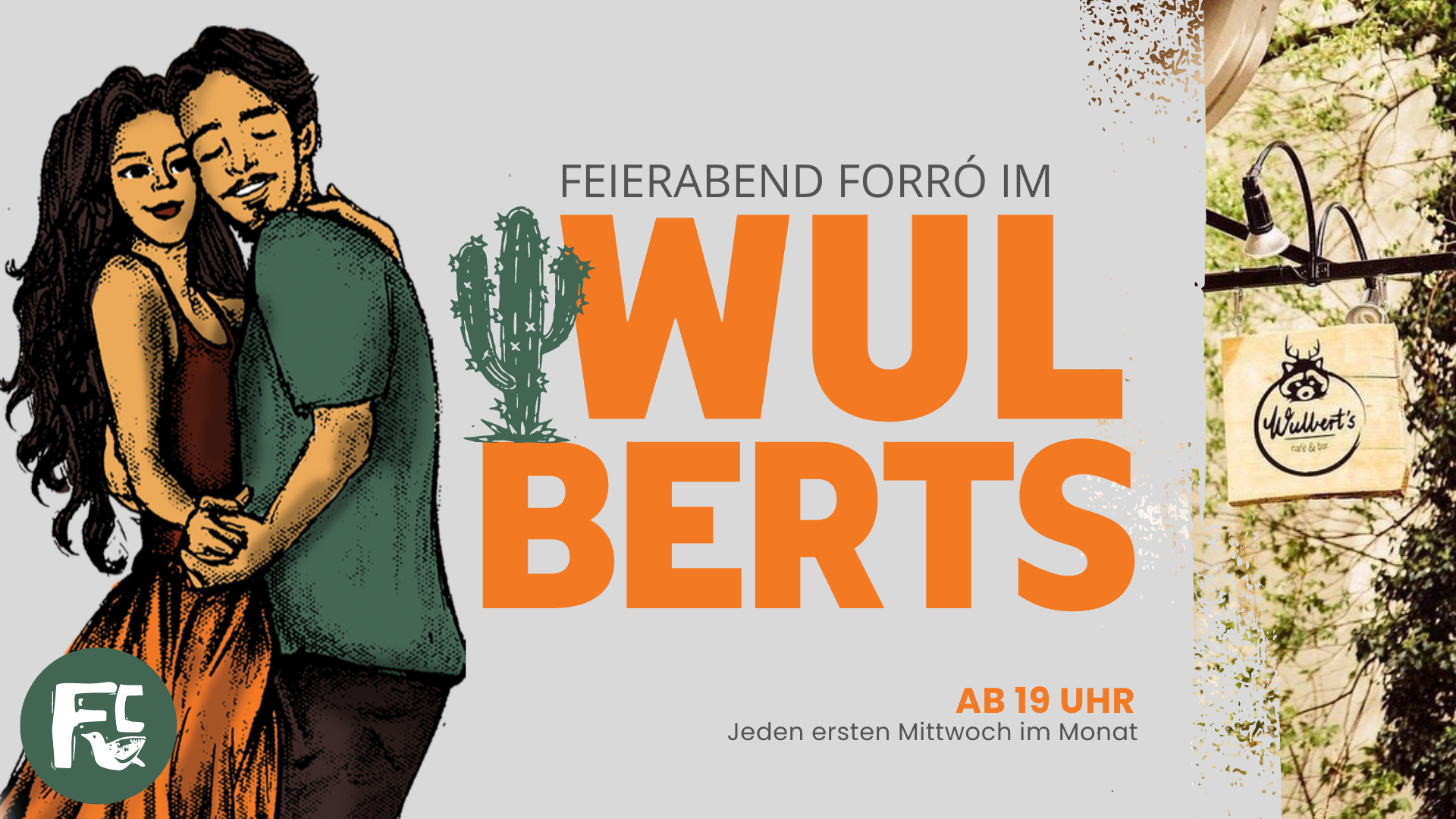 Forró @ Wulberts
Wednesday the June 7, 2023 we are dancing in Wulberts again.
We start at 19:00 and finish at 22:00
Admission: Donation
Venue
Wulberts Café und Bar
Rudolfstraße 2
01097 Dresden
Date and Time
June 7, 2023, 7 p.m.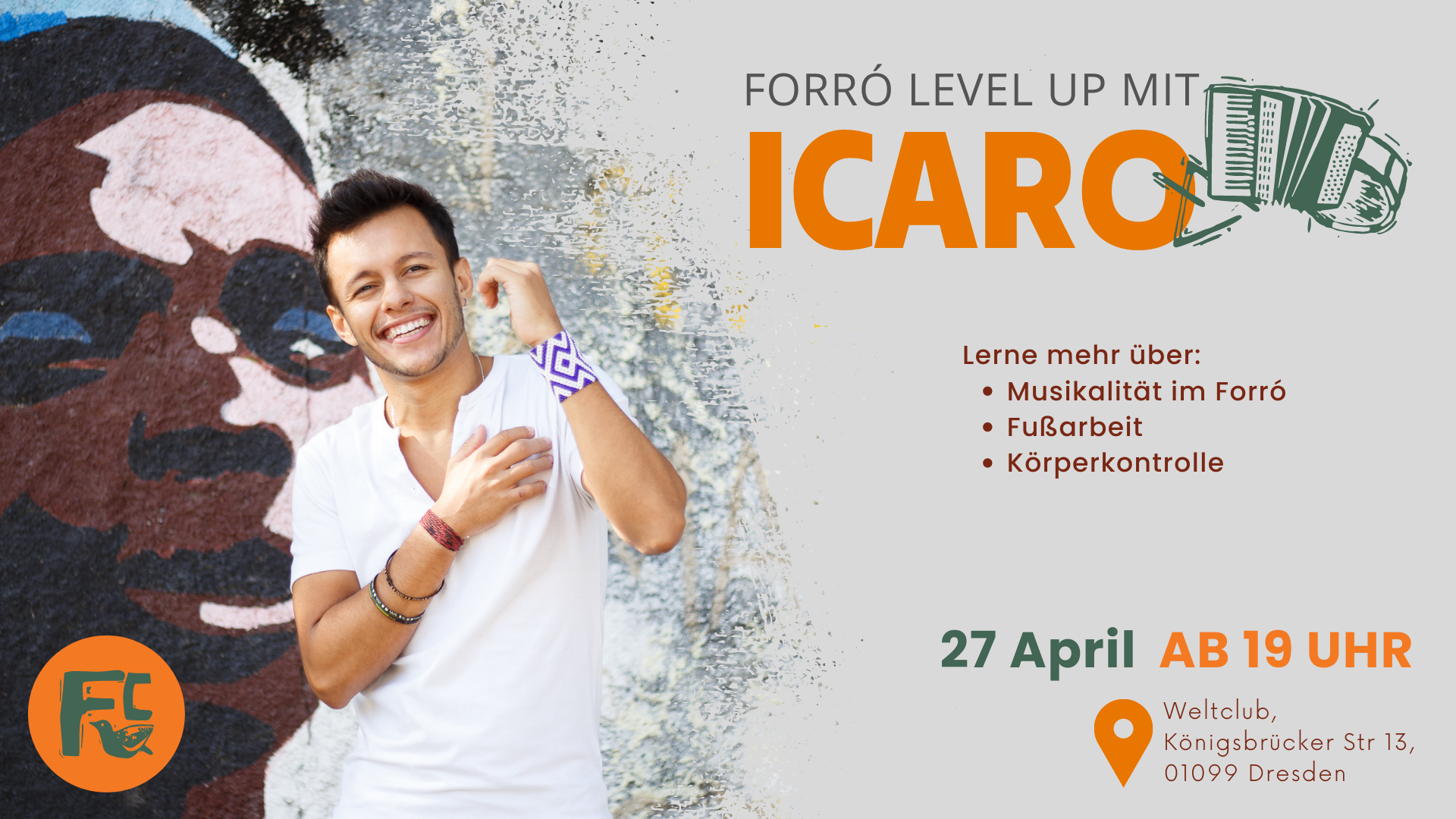 Workshop with Icaro Abreu
Icaro Abreu Viana was born in Belo Horizonte and had his first contact with forró in his childhood when he lived in the city of Tibau do Sul (RN). As a teenager, he started developing his interest in this manifestation again, but delving deeper into the university style. Immersed in forró since 2009, in 2013 he joined Pé Descalço school as a student. Over the years, he took part of the presentation group, which was formed part of the school's examiners and part of the team of teachers at Pé Descalço Savassi (the main unit) and Pé Descalço Coração Eucarístico (Coréu). Within the school he taught classes in the various units, located in Belo Horizonte, Contagem, Niterói and São Paulo.
His first contact with cultural movements came through Capoeira Angola, which began as a child (1996) in the group: Associação Cultural Eu Sou Angoleiro – Mestre João Bosco. In 2017, in order to better understand the cultural relationship of forró with other cultural movements such as capoeira angola, samba de roda, coco, maracatu, candomblé, etc. He has been doing this until today. On January 2, 2020, he left Pé Descalço institution and started a solo project, teaching classes in Belo Horizonte and other states. He currently takes forró in two models: private lessons and workshops, having already visited several cities: Belo Horizonte (MG), Teófilo Otoni (MG), Pedro Leopoldo (MG), Sete Lagoas (MG), São Paulo (SP), Rio de Janeiro (RJ), Niterói (RJ), Salvador (BA), Feira de Santana (BA), Brasília (BSB) and Itaúnas (ES). Bringing the cultural aspect with him, in July 2022 he was the champion of the 1st Forró Tournament held by Buraco do Tatu in Itaúnas in partnership with Giovanna Silveira.
As a cultural agent, Icaro currently works with Capoeira Angola and Forró classes, as well as being part of a Rural Samba group called Samba D'ouro. In his classes, he seeks and encourages the understanding that forró, as a cultural manifestation, encompasses several ways of dancing and that each body can choose what suits its best, so that we have a dancing based on respect, dialogue, safety, delivery and energy.
In his workshop you will learn more about musicality in Forró, footwork, body control
Venue
Weltclub Dresden
Königsbrücker Str. 13
01099 Dresden
Date and Time
April 27, 2023, 7 p.m.
Register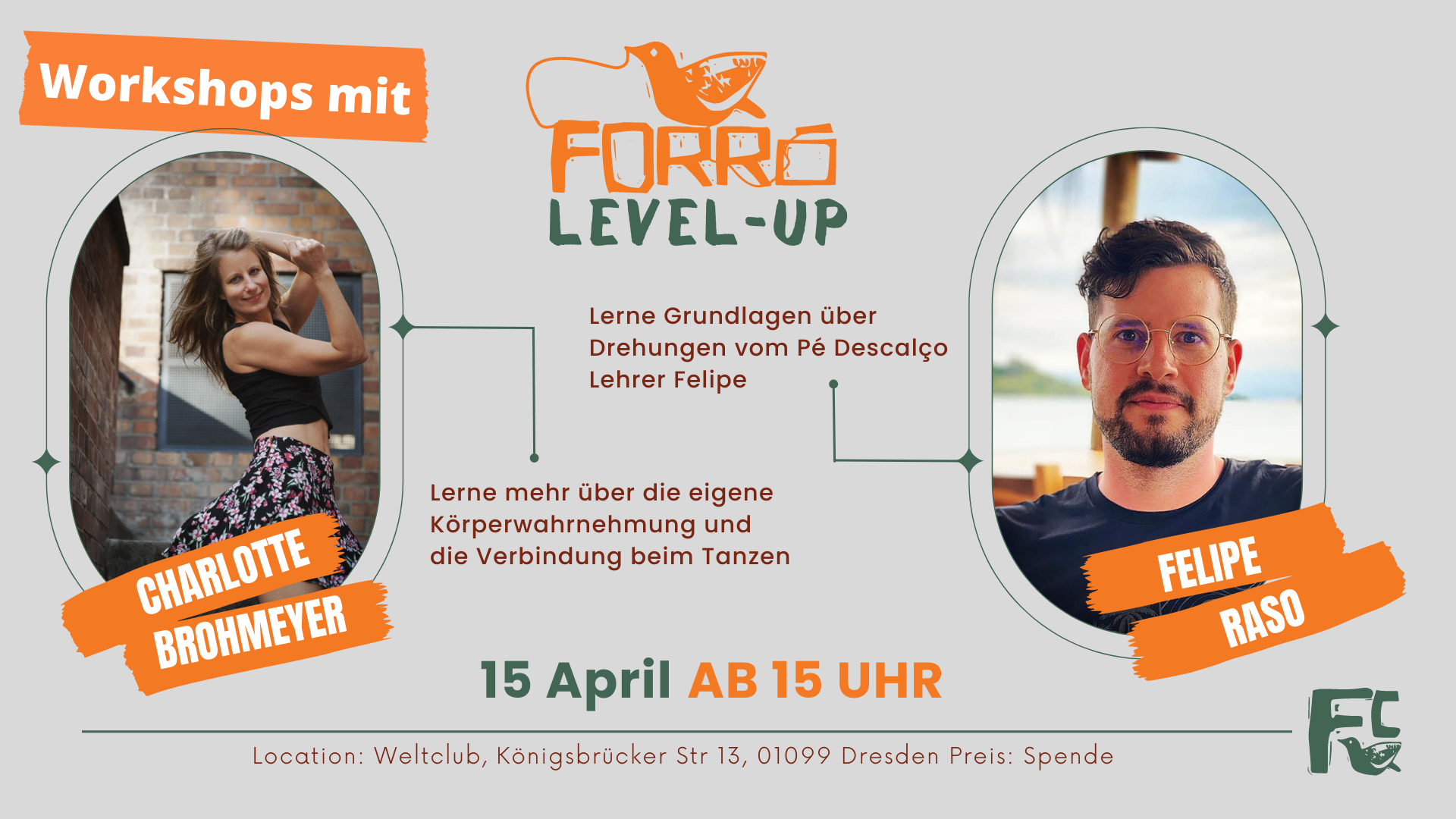 Forró Workshop with Felipe and Charlotte
Forró Workshops with Felipe Raso and Charlotte Brohmeyer
Starting 15:00 Felipe will give a workshops on the basics of spins. Starting at app. 16:30 Charlotte will give 2 classes on body awareness and connection while dancing. After the workshops there will be opportunity to practice.
Felipe Raso
Felipe Raso, born in Belo Horizonte - MG, Brazil, started dancing forró at the age of 17 at the Pé Descalço school where he graduated in 2012. He works as a teacher, examiner and choreographer since 2011 and manages two units of the Pé Descalço school chain since 2017. Today he travels around Brazil and the world teaching forró. He has taught classes in the Northeast and throughout southeastern Brazil, with a highlight at festivals in Dunas de Itaúnas. Outside his home country he's taught in several countries such as the USA, Ireland, England, Germany, Switzerland, Russia and Japan.
Charlotte Brohmeyer
Charlotte lives and works as a dancer and choreographer in Berlin. She started dancing Forró in Portugal in 2016. Full of enthusiasm, she went to Brazil for a longer stay. There she deepened her knowledge and experiences about Forró and learned more couple dances. Since then she has been teaching Forró with great passion and sharing her enthusiasm in the form of classes and workshops in Berlin and at festivals.
Due to her background as a contemporary dancer, her classes do not only technique and precision of steps play, but also body awareness plays an important role.
She uses elements of contact improvisation to raise awareness of one's own body and the dancer. The intertwining of technical and creative aspects enables us to expand our possibilities of expression in dance and to prioritize the connection between dance partners.
Venue
Weltclub Dresden
Königsbrücker Str. 13
01099 Dresden
Date and Time
April 15, 2023, 3 p.m.
Register